Antimicrobial Films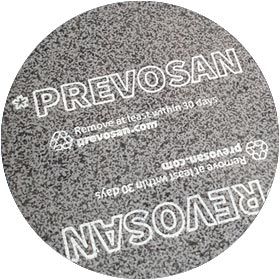 PREVOSAN™ antimicrobial film brings virus-killing protection to people and surfaces across a wide range of applications. Easily applied and removed, the film kills Sars Cov-2 and other common viruses. The film is ideal for high-traffic and frequent-use areas such as desks, countertops, tabletops, door handles, chair rails, touch screens, and more.
Rolls available in widths up to 39 inches
Film allows operational text and branding to remain visible
Non-toxic to humans and pets
Durable and tear-resistant
Proven PREVOSAN™
PREVOSAN™ has been third-party lab tested and certified to kill 93 percent of a virus within 10 minutes and up to 99.997 percent of a virus in 24 hours. Routine cleaning of surfaces protected by the film does not harm its antimicrobial properties. All active elements are integrated into the polymer matrix of the film, resisting degradation.
Tested and certified by Industrial Microbiological Services LTD (IMSL)
DIN EN 71-3 tested and certified for toys
Antimicrobial protection lasts 30 days
Antimicrobial film is constantly active